Lonely Hours' is the debut album from singer-songwriter Caesar Roosevelt. Delivering a vintage pop
sound, this 13 track album is a masterclass of emotional expression and an artistic exploration of the self. These songs explore the feelings Caesar had and still has for his first person, whom he tragically lost to suicide. Caesar Roosevelt describes the writing and recording process as very intense, as he sang about toxic relationships and his own sexual exploration. Also a healing process, 'Lonely Hours' leaves everything on the table and is an example of authentic and free self-expression. Produced by Emiliano Di Fiori and engineered by Dan Kjellberg, 'Lonely Hours' is a strong debut album from this emerging artist.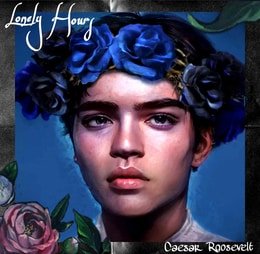 Based in Port Blair in the Andaman and Nicobar Islands, India, Sangam Kumar Tirkey – professionally known as Caesar Roosevelt – didn't come from a musical family. He found comfort and healing in writing poetry from a young age, which quickly grew into a love of making music. At the age of 17 he started performing live in nightclubs as Voice Sangam, where he developed both his vocal skills and his performance abilities, which has made him into the strong recording artist he is today. Having faced the difficulties of losing a loved one to suicide, and enduring toxic relationships, Caesar Roosevelt is a persona created by the artist that delivers soft-core songs about sex, heartbreaks, heartaches, and toxic relationships; he was initially known as just Caesar, but included Roosevelt as he felt that it reflected his personality more accurately. He has performed live with various artist names like Voice Sangam, Vintage Baby and Adam's Steve.
For more information and to listen to the music of Caesar Roosevelt visit https://open.spotify.com/album/1BssWbnBX72Pz53cdJKYcr?si=X2cR7RV3RJefsWjEgJSQ3g&utm and Google Search Results