As we greet the new decade, MKSMTH and Fuller French have teamed up once again to unveil a brand-new remix – Champagne Rendezvous (Mksmth Remix) which is shaping up to be the defining remix of the original track and an international sensation heard throughout the world.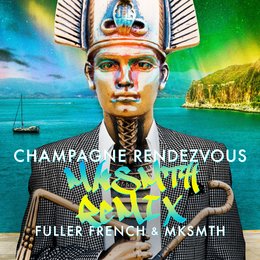 MKSMTH, as usual, will shatter all expectations with the second remix and his innovative sound, infectious grooves and melodies while Fuller French continues to charm us with his enchanting vocals and relatable hot and heavy romantic lyrics. The song is perfect for any midseason saunter to the tropics or apres-ski festivity.
Fuller French channels smooth swagger and elegance in every hit song he writes and records at Capitol Records in Los Angeles, where he swoons audiences with every captivating note. Hailing from Oakland, California – producer, artist and legend Mksmth, is a creative genius who has previously worked with acclaimed artists such as DJ Snake, Logic, G-Eazy, Zion-I, Terror Jr, as well as many others, in creating hugely popular dance songs and remixes.
The pair, with their raw and natural talent, have again broken all boundaries of music with this long-awaited track, transforming what was an Adult Contemporary Smooth Jazz number into an explosive EDM hit.
"Champagne Rendezvous (Mksmth Remix)" is available now on all streaming platforms and blogs, including but not limited to Apple Music, Spotify, Tidal, and Soundcloud and will soon be heard in two Mksmth sets at the Coachella Valley Music and Arts Festival in 2020 delivering unrivalled euphoria to thousands of EDM, Tropical House lovers.
To promote their new single, Fuller French and Mksmth are giving away a pair of Coachella tickets to the best Tiktok video using Champagne Rendezvous (Mksmth Remix). To enter, post your video to the TikTok app using the background music of Champagne Rendezvous (Mksmth Remix) and send a link to the video via email to dasha@isetagency.com … the TikTok Champagne Rendezvous (Mksmth Remix) video with the most likes on the closing date of February 14, 2020 at 5 PM PST will win! Enter today!
Listen here: https://open.spotify.com/album/0vNx38uznKoSBsUuefO8TG
You can follow MKSMTH and Fuller French on social media.
Connect with Mksmth: @mksmth
Connect with Fuller French: @FullerFrench
www.FullerFrench.com