Singer-songwriter Vaclav Polansky is the mastermind behind acoustic folk project DAVA. Inspired by his life experience and path to conscious living, DAVA explores this journey through debut album Joy Is Our Guide. The 9 track album, which surrounds itself in peace and tranquillity, was released on the 21st March 2021 in digital form only, to avoid the destructive environmental impact of plastics.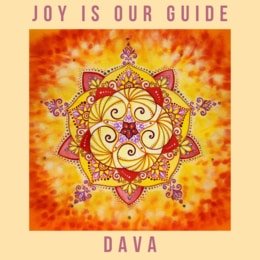 Expressed as 'acoustic conscious music' by DAVA himself, the songs pull at various genres and influences created in his home country of the Czech Republic. The leading element of the album is the melodic acoustic guitars, on which he collaborated with US songwriter and fellow guitarist, Daniel Levanti. The album opens with title track Joy Is Our Guide, unveiling the realisation of joy and light after overcoming darkness. Each track on the album is an individual tribute to DAVA's steps to a more conscious lifestyle and spiritual adventure, fueled by his past fears and insecurities. The essence of the album is captured through his empowering lyrics of soul searching and self-discovery. Drifting over this sonic landscape is Polansky's textured voice and husky tones, enunciated by the delicate picking of the two guitars that blend harmoniously, never tripping over each other, only complimenting themselves.
DAVA's connection with earth is paralleled through his music, even down to the tuning of the guitars, which are tuned to 432hz in alignment with the universe. Igniting the arrangements throughout the album are piano and organ flourishes and the spirited energy of percussion, or the happiness of a jubilant whistle. Other times, the tone drops to something a little more mellow and reflective, in places introducing string instrumentation. Stand out lyric 'just try to become what you love' from In The Flow summarizes the purpose of the album, overcoming the struggle to fully accept ourselves, intending to inspire those who listen to do the same.
DAVA draws musical inspiration from a range of artists such as Pink Floyd and Jimi Hendrix to The Civil Wars and Edward Sharpe and the Magnetic Zeros. Lyrically, the words pour from the heart, acknowledging a change of direction in his life that was ultimately for the better. Once the album is released, DAVA aims to focus on his live performances through online shows, spreading his positive messages for the world to
Links:
https://www.instagram.com/dava.band
https://www.facebook.com/DAVAmusic