Rising pop artist Farrah Mechael is welcoming you to her version of paradise in her second song release of the summer, "Welcome to Forever." The single precedes her album "Welcome to Forever" which represents the singer's dream in life: to change the world with her music.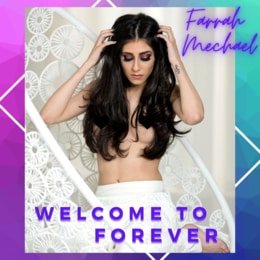 Written by her 20-year-old sister Tamara, "Welcome to Forever" is an ode to dreamers everywhere. The growing pop star put all her energy into "Welcome to Forever" so listeners could tap into her artistry through music. Farrah's intense vocal range and layering techniques will leave you feeling powerful and free.
Before coronavirus, a BudLight-sponsored Farrah Mechael performed at iHeartRadio's Wango Tango and Detroit's Summer Jamz, among the likes of Ariana Grande, Shawn Mendes, Chris Brown, Tory Lanez, and more.
The album "Welcome to Forever" will be released on July 23rd to give listeners the pop music they deserve. Be sure to keep up with Farrah Mechael this summer as she performs songs from her debut album,"Welcome to Forever" across venues and stages in LA and Detroit; dates TBA.
"Welcome to Forever" is Farrah's official public announcement that she is here to stay. Lyrics in the song state she will "sing her songs 'till the end of time," and that alone is telling enough. Farrah is also planning another release for the end of this year and an upcoming tour for her fans, to whom she refers as her "Stars." After years of preparation, Farrah Mechael is taking the world by storm- and we cannot wait to see what surprises she has in store.
Listen to "Welcome to Forever" on
Youtube: https://www.youtube.com/channel/UC87qJqXeC92pa1b2axM5UWQ
Apple Music: https://music.apple.com/us/artist/farrah-mechael/797743164
Spotify: https://open.spotify.com/artist/6RZRM6i4lpRuRBCLvFFKiV
Follow Farrah Mechael on Instagram at https://www.instagram.com/farrahmechael
Visit the Farrah Mechael website at https://www.farrahmechael.com