Independent Hip-Hop artist and entrepreneur Warchyld has produced a custom barbwire baseball bat in loving memory of Nipsey Hussle. Warchyld's clothing line "Wardrobe" produces one-of-a-kind artifacts like this item, so there will never be a duplicate.
Warchyld gifted the exclusive piece to J Bettis 420 of G Unit, as a special token of the community's great loss of the legendary artist. The unboxing can be captured here: https://youtu.be/G4tyjVJCxl4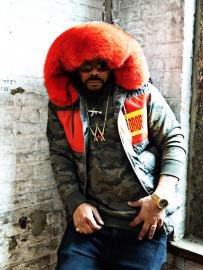 More Info.
To understand the less-traveled road that Warchyld took for his career to currently stand at best shape ever status is to recognize that the Philadelphia-bred MC is a rarity in a pool of common rappers. Everything about the man born Christopher Stoney is rather unique.
It would be his father who first recognized the greatness in his son. A lifelong vocalist and keyboardist, Dad would wake young Chris out of sleep and order him to practice the lyrics to great songs by greater acts like Bon Jovi.
Except song wouldn't be the youngster s art form calling. Purpose would find Warchyld the day he was introduced to Run DMC and Aerosmith's iconic Walk This Way video. From that point on, he would forever be a microphone fiend and master of ceremony.