SUMMARY: In a world where there are so many opportunities for one's music to gain exposure, it is essential that rappers make a statement. Long time rapper and producer G-Supreme stands out above the crowd due to his ability to combine the old and new rap and hip hop genres while also keeping the content fresh and modern. Released on February 24th, 2018 his latest album You Think That's Lyrics You're Spittin?' shows that in order to be truly great, one should understand the history of the craft.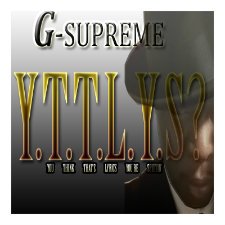 Ever since he was a teenager, rapper and producer G-Supreme has been a disciple of hip hop. Following the genre from its roots throughout the years, he has been able to cultivate a unique sound that masterfully blends old and new in order to create a modern sound that still captures the true roots of hip hop. as a youth was signed by KRS 1/B-Boy Recordsand has done songs with both Kool Kim (UMC'ees) and MC Shan (Juice Crew) He describes his music as music that comes from "now", but keeps the intent of original hip hop; something that is difficult to do without a lifelong passion for hip hop.
At the heart of G-Supreme's music as well as perhaps the legacy of hip hop as a whole is an idea of representing the realness. Having never been pressured to not be himself or deviating from his sound, the final product of his music is that of sincerity and uncompromising perspective. Years of staying true to himself has led G-Supreme down a path that allows him to create art with a poignant message regarding self-awareness. The message expands on the value of not bending to the will of the music industry.
You Think That's Lyrics You're Spittin?' was recorded in his own studio (Preme-Studio) and represents a recording career spanning more than two decades. Lyrically, the album communicates a positive message centered around individuality and an appreciation for what may be one of the most underrated musical genres in terms of mainstream exposure. Driven by dedication and the idea that music comes from a place of reverence and understanding, every track of the album communicates what it means to truly love music and stay true to oneself.
Being one of the acts to look out for, you can learn more about G-Supreme and his wide berth of work on his Facebook page (https://www.facebook.com/TheGSupreme1), and the music video for his recent
single "What You Spittin?'" on YouTube (https://www.youtube.com/watch?v=gExTae3iV14).