Originally from Italy, recording artist, poet, songwriter and multi-instrumentalist Shiny Glide aka Antony Venneri, has always had a deep connection with the world. He is not afraid to follow the path that his music provides for him. The stage name Shiny Glide, is a name which was inspired by watching albatross glide across a pristine ocean. He uses poetry and metaphors to share the world with his listeners through a lens that only he can provide. It is the natural beauty of these birds that he thought was the perfect description of what his music is meant to represent. Like the dreamy glide of the albatross, his music connects with the most sensitive listeners through diverse rock instrumentals and lyrics that represent a much deeper meaning.
Having traveled all over the world, Shiny Glide has had the pleasure of fine-tuning his art in major artistic epicenters including Los Angeles, New Orleans and Dublin among other places. The result is a brand of music that is driven by modern conventions like classical guitar and blues instrumentals, but layered with loops and engineering tricks that give a much more modern sound. Not driven by profit, vanity or ego, he understands that creative expression holds deeper meaning than surface benefits. Completely free of emulation and ego, "Dare to be reborn" is 16 tracks of alternative rock that deviates from the mainstream while also retaining pop sensibilities.
Believing that his music is representative of where experiences take us, Shiny Glide uses a free-spirited approach and poetic lyrics to share with listeners his own unique musical journey. Considering himself as a citizen of the universe, Shiny Glide views his music as a universal truth, the journey that each of us must make in order to find out where we belong. "Infinity is on my side", the latest track from his upcoming album "Dare to be reborn" is what listeners can expect from the latest incarnation of an artist who has for years been pouring his heart and soul into his work.
The album was engineered using a variety of software suites to create a sort of throwback sound that captures the essence of organic rock while producing a crisp, condensed sound that flows seamlessly. The latest track from the album titled "Infinity is on my side" is just one example of how each song on the 16 track album sucks the listener in and keeps them drawn to the song for its entire duration. Sweeping guitar and ambient effects make the track an excellent way to mellow out and establish a deeper connection with the world around. Believing that music is the key to becoming the best version of oneself possible, Shiny Glide's music touches every emotion on the spectrum and opens the door for deep reflection.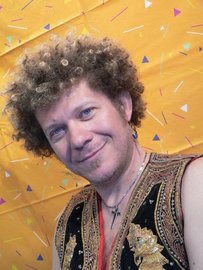 Shiny Glide hopes that the current pandemic will subside so that he can plan massive bookings across the world. He hopes to relocate to the United States permanently and build up a fanbase and connect with listeners on a more personal level. Believing that missteps and unforeseen events are all part of the creative process, the plan is to grow an international audience and share his message of calm retrospection through a sense of universal belonging. To listen go Shiny Glide's music, check out "Infinity is on my side" on Apple music (https://geo.itunes.apple.com/us/album/infinity-is-on-my-side/1490267301?i=1490267302&mt=1&app=music), and learn more about "Dare to be reborn" on the official website https://www.shinyglide.com.
Watch the music video for "Infinity is on my side" on YouTube at: https://www.youtube.com/watch?v=XiYOauhnbcg