SUMMARY: "He writes and sings Americana songs that resonate, often capturing quirky characters with lyrical stories written around them. Frank Kocher a review of "Dr, Daniels Miracle Cure and Medicine Show" for San Diego Troubadour American artist, Ken Lehnig, releases "I Can Hear You Now" a different kind of faith album.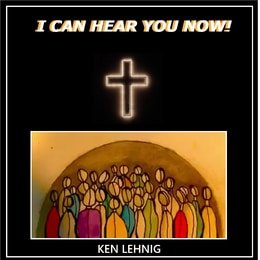 I Can Hear You Now is Americana artist Ken Lehnig's fifth solo album project. Ken included a praise song in each of his four previous albums: The American Music Show, Holding a Rose, Dr. Daniels Miracle Cure and Medicine Show, and Broken Heart. With a talented group of musicians offering their talents: Ed Kornhauser, Robert Cowan, Cory Wilkens, John Hildebrand, Chris Lehnig, Pat Hildebrand, Alicia Previn, Marty Shwartz, David Morgan, Jay Jay Lim, and Mary Harris. 'I Can Hear You Now' was produced by Ken Lehnig and John Hildebrand. This album has an eclectic mix of songs that explore the, often, the difficult relationship between God and his flawed creation breaking the mold on what is considered traditional. Open praise, jazz, blues, rock, folk, and country are all included in this project. The songs are of mixed genres, Two traditional songs, and thirteen originals. The latter written and performed by Ken Lehnig.
"I have been personally aware of God the whole of my life, long before I was introduced to organized religion. Scripture was a personal and private revelation to me. It didn't matter much to me what Clerics told me unless I knew it to be true. My journey with organized religion, including being a church leader, was mostly uncomfortable and conflicting. My conversations with God and worldly lessons have led me through my life, for good or ill. Understanding and clarity were the benefits of all those lessons. Such is the nature of forgiveness and grace. I have endured two near-death experiences, neither a tunnel of light. Rather, each a darker, to the point, revelation. This album is the result of an agreement with God about my life. It was not a 'deal' but rather a recognition and thanks for an often difficult yet wonderful life. I was urged to write a faith album for Him. It took ten years, not because I was stubborn, I have been known to be, but because I failed to write in the manner of contemporary Christian music. The songs in this album represent, for me, real conversations with God, laments, heartfelt praise songs, proclamations, and complaints. It is my hope that this album, I Can Hear You Now, pleases God and touches the listener in their life's journey." – Ken Lehnig.
For further information, promo requests, or a set up for an interview please contact:
John@AmericanWindsongMusic.com
Sites:
AmericanWindsongMusic.com
Facebook.com/ken.lehnig
KenLehnig.com
https://open.spotify.com/artist/O9v5DqMKPUyzSCaA9UOhW2