Kongos return with a haunting new song, "Real Life", the bands first musical release since the 2016 album Egomaniac. The band also announced their upcoming 4th studio album 1929 to be released later this year, as well as a 10 episode docuseries about life on tour titled Bus Call.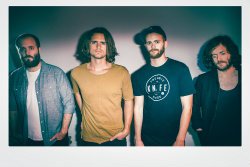 With "Real Life", the band takes a departure from their signature thundering drums, guitar riffs and anthemic vocals to deliver a broken down and beautifully melodic commentary on a desire for something more than the distractions of modern life. Dylan sings on the verse, "checking in, checking out and logging on, this is what I'm running on – this ain't real life". The mesmerizing lyric video (https://www.youtube.com/watch?v=UyFfsNjHx2Y) perfectly accompanies the simplicity of the song by utilizing time-lapsed footage projected into a bedroom. The self-produced 2 minute long track, gives fans a chance to hear KONGOS in a different light than they may have before. Jesse says about the new material, "We really wanted to show a different side of ourselves with this first track and change expectations. People know us for our heavier, hooky, tribal accordion rock stuff, which we are still developing on this new album, but our sound has always been varied and we wanted to create a new first impression with 1929." Johnny adds, "with the 4 brothers writing individually, the results have been quite diverse and we're really excited about that."
"Real Life" and all the new songs from 1929, the bands 4th studio album, will be featured in 'Bus Call – Life On Tour', a 10 part- documentary series. Following the multi-platinum success of their single, "Come With Me Now", the band hired videographers to capture content for social media and promotional material while on tour. They quickly realized the potential, however, of capturing something much more substantial, so they instructed the videographers to keep the cameras rolling… before shows, after shows, when times were good and especially when times were tough. Cut down from over a thousand hours of footage from more than 30 countries, hundreds of cities, countless venues, hotels and dressing rooms, as well as a wealth of home video, the series tells a unique story of a band of brothers and gives an unprecedented and realistic window into one of the most coveted and often overly-romanticized jobs in the world: touring in a rock band. When asked what inspired the docuseries, Danny said, "After being so disenchanted with watching polished and disingenuous documentaries about band and road life we wanted to make something honest." 'Bus Call – Life On Tour' will be available on streaming services later this year.
Real Life: