SUMMARY: Released on February 7, 2023, the latest full-length album from rapper Kurt Dog titled "Smoke and Mirrors" features rapper Otherwize and showcases each artist's evolution. The album contains nine tracks that are lyrically sound, and rich with musically diverse beats. Containing elements of R&B and classic hip hop while breaching the more modern hardcore rap variation of the genres, Kurt Dog uses his many influences and life experiences to paint a vivid picture of what life in the rap industry is like. At the heart of the record are clever vocal styles and meaningful lyrics alongside crisp beats and unique production tactics. The end result is perhaps one of his best albums to date, and a glimpse into what makes the artists tick.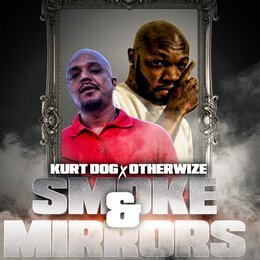 Perhaps what makes the music of Kurt Dog so unique is his ability to mesh with artists from regions with different influences and norms other than his own. Born in Los Angeles and raised in Inglewood, gangster rap of the late 80's and early 90's were some of his biggest musical influences. This gave him the framework for his lyrical style of music backed by classic hip hop beats. This has helped him to connect with a variety of produces as well as fans. With a deep and textured feel "Smoke and Mirrors" contains nine tracks, while featuring Otherwize. The album further showcases his ability to mesh and fuse genres together all while maintaining the gangster rap roots that he grew up with.
Inspired by real life experiences, Kurt Dog's lyrics are hard hitting and original. With a diverse group of sound engineers, he has created a brand of music that seamlessly blends genres. The West Coast songwriting is at the forefront of the music and having his own studio has allowed Kurt Dog to branch out and collaborate with different hip hop artists from all over. The creative control over his music has transformed Kurt Dog into not just a rapper, but a multi-faceted artist capable of drawing from a variety of influences and connecting with a wide range of listeners.
Recorded using Pro Tools at his home studio, "Smoke and Mirrors" features all of the elements of a West Coast hip hop album complete with meaningful songwriting and lyrical content that ranges from edgy to heartfelt. He hopes that the new album will help propel his independent label and reach more listeners from around the world. He also strives to collaborate with a diverse array of artists looking to branch out and add new elements to their respective genres just as Kurt Dog himself did. Listeners can learn more about Kurt Dog and his new album "Smoke and Mirrors" on Spotify.