Legendary rock disc jockey Rodney Bingenheimer selected two BREE songs for his Elvis/Bowie Birthday Bash on Little Steven's Underground Garage radio show (SiriusXM and Dash Satellite).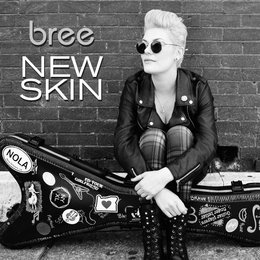 Rodney's January 5th broadcast featured BREE originals "Damn, I'm Being Me Again" and "18" from her 2019 ten-song album "New Skin" (Werewolf Tunes).
"Rodney is one of the greatest DJs in rock and was among the first to break bands, who had a huge impact on me like the Ramones and Cheap Trick," said BREE, "and David Bowie, especially when he was with guitarist Mick Ronson, is one of my biggest musical influences."
More BREE: It's not often you come across a band like Bree and it's rarer still you get to hear a life story such as hers. (www.BreeMusic.com)
More About "New Skin": The new album "New Skin" may seem revelatory yet somehow instantly familiar – like the kind of record you've had knocking around the house for years. Released worldwide on Werewolf Tunes on November 15th, 2019, "New Skin" is now available on iTunes (https://music.apple.com/us/album/new-skin/1484412716), Amazon, Spotify, and other major media outlets.
More Rodney Bingenheimer: Born December 15, 1946, Rodney is an American radio disc jockey who was on the Los Angeles rock station KROQ. (www.wikipedia.org/wiki/Rodney_Bingenheimer)
More Little Steven's Underground Garage: The success of the radio show has allowed Little Steven's Underground Garage to expand beyond the world of radio into television, live events, albums, satellite radio, and more. (www.UndergroundGarage.com)