Trained in both piano and guitar, multi-instrumentalist and songwriter Anthony Venneri, whose stage name is Shiny Glide, always found guitar to be better suited for his nomadic nature. A traveler and former busker, he has performed his unique brand of psychedelic rock in various locations around the world including Dublin, Rome, New Orleans and Los Angeles. His latest release, "Sweet Eternal Walk" is a brilliantly serene and paced album with a message of hope. Each melody is carefully crafted, reflecting what Shiny Glide says to be a special love and dedication into what he does.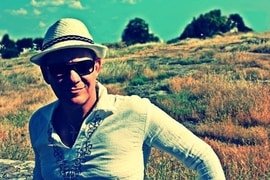 It is this dedication combined with the genuine nature of the sounds and words contained within the album that makes "Sweet Eternal Walk" a joy to listen to. Behind each layered melody are lyrics that touch on a subject of issues including spirituality, understanding, hardship and love. This is all just a part of his ability to form connections with his fans both in and outside of the studio. Proudly confessing that music has saved him personally from dark times in his life, Shiny Glide provides the soundtrack to crossroads that we've all had to face.
Recorded solely in a home studio, "Sweet Eternal Walk" highlights the deeper connection that we all share with those around us with a sweeping soundtrack that is carefully crafted and deeply unique. Shiny Glide hopes to share with his listeners the beauty and possibility for true freedom, both spiritually and physically and to break down the imaginary barriers that divide us. The "Sweet Eternal Walk" is the one that we all take in order to form a closer bond with nature and humanity. This latest release is one that will truly resonate with listeners looking for something uplifting. Rich melodies led by jaunty guitar paves the way for the electronic experimentation with each track.
Understanding that we are in an important and often troubling time in the world, Shiny Glide knows how important it is to look at the bigger picture and to reach a higher level of understanding and inner peace. Learn more about Shiny Glide, "Sweet Eternal Walk", and your own musical awakening at https://www.shinyglide.com, and be sure to check out the title track "Sweet Eternal Walk" on YouTube.