SUMMARY: Influenced by artists including Rae Sremmurd, Migos and Young Thug, Atlanta, GA rap duo Taizautie has crafted a unique sound around painful and real subject matter. Their debut album Secure the Bag was created with the help of the Boca Music Group, Michael Walcott ad Stefford Jackson, who were also the ones that encouraged Taizautie to pursue their music career.
Based on personal experiences, the music of rap duo Taizuatie provides a type of music designed to truly connect with listeners. Natives of Virginia, the group relocated to Atlanta where they hooked up with the Boca Music Group, whose founding members Michael Walcott and Stefford Jackson saw something special in the two. They encouraged Taizautie to pursue their career and release their highly anticipated debut album Secure the Bag. A 14-track masterpiece, the album deals with real issues including health problems such as asthma and sickle cell and in addition to complex cultural issues.
Containing elements of some of the most prolific rappers of the mid 2000's, Tiazuatie's style is smooth, while still retaining an edge. Sharp lyrics and concise delivery makes the music the perfect soundtrack for the summer, an experience that is as intelligent as it is catchy, a complete album that runs the gamut of human emotion. Part of the great production company that is the Boca Music Group, Taizuatie's album features appearances by fellow Boca artists including Bizziemade, Kyyngg, Que and Yung Dirty.
Down to earth, rhythmic and relevant, the music is a sweeping commentary of life in the United States as well as the plight of not only the young black community, but the struggle that we all must face. In a world where music is sometimes the only vehicle with which people can reach a deep level of communication, Taizuatie is the type of group that speaks to entire walks of life, letting people know they they are not alone in their struggle.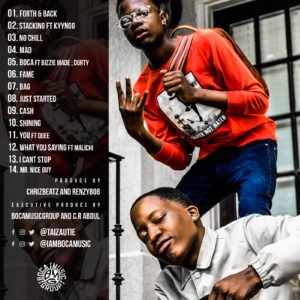 It is the creative collaborative effort of the Boca Music Group that has brought the undeniable talent of Taizuatie to the forefront. In the next six months, the band plans on promoting Secure the Bag with the help of help from Boca Music Group, who also serves as their record label. Along with the album promotion, the band will be releasing videos from the album. Listeners can currently find the video for the first single off the album called "Mr. Nice Guy" on YouTube. For more information on Taizuatie, their Secure the Bag, and the Boca Music Group, visit the Taizuatie Instagram Page at https://www.instagram.com/Taizautie/. Listeners can also hear the full album http://smartlinks.tvm.bio/taizautie-secure-the-bag/