SUMMARY: "Blow Up" the latest track from rapper/singer Zhonzell Watson who professionally goes by the name "Zell" features what the artist describes as his enjoyment of rapping over bouncy beats. Ever since having a little bit of notoriety in the underground rap industry, Zell has recently decided to up his game and begin to really learn how to make and produce his own unique version of indie hip hop. The end result has become an upbeat, yet calming track with a positive message and thoughtful, introspective lyrical composition.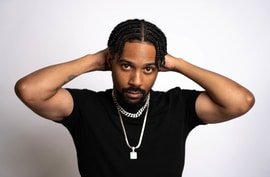 A producer of all of his own music, Zell began his serious music careerin 2017 after failing to get mainstream exposure. Since becoming his own boss, he produced a song called "You Said", by Young Thug featuring Quavo. "You Said" includes Zell's acoustic guitar loops that were creatively used during production. From there he has sold loops and produced artists from all over the world as well as uploading his own mixing/mastering tutorials on YouTube. His latest single, "Blow Up", released in April 2021 features some of his loops as well as showcasing his ability to both rap and sing.
Dedicated to being the creative force behind every step of his music, Zell comprises his own beats, writes his own songs, produces his own loops and masters every one of his tracks himself. Priding himself on producing and performing with 100% originality, Zell is one of many artists who has taken full advantage of the tools that DIY artists have at their disposal. Highlighting love and success, not only does Zell produce his own style of indie hip hop, but shares his talents and influences with other artists, while avoiding topics such as murder and violence.
"Blow Up" gives artists a message of hope and encouragement, as Zell acts as not only an entertainer, but an educator who shares inspiration on how to become your own successful artist. Recorded using Studio One 5 Professional on a simple iMac computer, Zell's music resonates with anyone looking for a different style of rap devoid of a lot of what often gives hip hop a violent image. His biggest release by far, autotuned vocals atop a beautiful loop gives the song a lot of texture, while still giving it an edge and encouraging the listener to pause and think. One of many music videos that will come in rapid succession over the next few months, this promises to be the track that elevates Zell to the next level.
Check out the alluring message and vocal presentation of a young hip hop artist at the top of his game and fixing to break into mainstream hip hop. Check out his music channel on Youtube at ZhonzellWatson, or his Instagram at Zell_Music, and be sure to check out the video for "Blow Up" on YouTube too. Zell is just one example of how musicians have more access to the tools and networks needed to blaze their own trail, and share with the world the infinite iterations of independent music.