SUMMARY: Safe Under the Tree is one of the few bands that deigns to call themselves alternative; a style of music that once represented laughing in the face of mainstream, defining their sound by their raw talent while illustrating what actually matters in music. Their album, "Idledaze" is the perfect example of what it means to play by your own rules and create music independent of modern conventions. Released on January 1, "Idledaze" takes what the nineties represented and improves upon its technical prowess.
Safe Under the Tree is somewhat of an anachronism in the modern music landscape. Where edgy and angsty music once led the way for mainstream rock, the current shape of the genre has changed to something more folk infused. But while hard rock has been primarily relegated to classic radio stations, there are still those out there who hold true to the nature of previous sounds. Safe Under the Tree calls back to a time where music would shock listeners into reflecting on the world around them; to listen carefully in order to understand what is truly important.
Hailing from Morrison, Colorado, Safe Under the Tree is a quartet that features male and female vocal harmonies as well as electric and acoustic arrangements that speak to a wide audience. At the heart of the band is a DIY attitude and dedication to their influences, which include Fleetwood Mac, Nirvana and Pearl Jam as well as a smattering of classic sixties groups like Jefferson Airplane. The end result is something both modern, yet reminiscent of the bands that helped forge the rock genre. Unpolished, yet meticulously engineered, the raw sound of Safe Under the Tree is something that fans of rock music have waited to discover.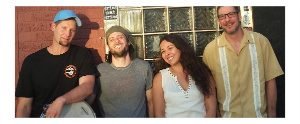 Capturing the true nature of underground music, "Idledaze" is one of those masterpieces that seems timeless. Recorded in a home studio, the final cut of the album sounds unpolished at first listen, but after analyzing, reveals itself as a technical rock marvel. From its layered harmonies and instrumentals to its unapologetic lyrical content, "Idledaze" encapsulates precisely what it means to blaze one's own artistic trail. Backed by the record are energizing live performances from a group that is relatively new to the scene, but appears as though they have been at it for decades.
"Idledaze" was produced and edited by the band and recorded, mixed and mastered at "The Spot Studios" (http://www.thespotstudios.com) in Lakewood, CO. From a recording standpoint, "Idledaze" feels more like sophomore record than a debut release. Free of any oversight and lack of cohesion, the album is masterfully put together in such a way that speaks not only to fans of classic rock, but for listeners who have been waiting for a sort of nineties revival. "Idledaze" is currently available on the official album site (http://idledazemusic.webs.com/safe-under-the-tree), and videos and live performances of the band's work can be found on their YouTube page. For more information on of the rock band's to absolutely keep an eye on, check out their Reverbnation Page or connect with the band on their official Facebook page (https://www.facebook.com/safeunderthetree).