SUMMARY: Familiar, yet completely individual, the music of The Vig Arcadia is an electric and groovy blend of genres. Their music evokes nostalgia giving you Deja Vu of a musical experience you've longed to have. Between their emotionally fluent lyrics and their irresistible beats, The Vig Arcadia's music leaves you feeling like the best version of yourself. Their latest single "Walk Away" represents that moment when listeners are ready to stop abandoning themselves, and take back the power within their relationships. The song will also include a music video set to be released the following week on March 26, 2022.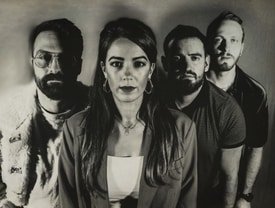 Created and born in Metro Detroit during the height of the pandemic, The Vig Arcadia is a collective of musicians with diverse backgrounds that came together despite the world being shut down. Their music provides an uplifting and energetic sound designed to inspire listeners and help them feel heard and understood. Their music celebrates individuality while creating an environment of harmony and togetherness.
From Black Sabbath to Motown to Prince, The Vig Arcadia uses their unique backgrounds and interests to give listeners an electric and groovy blend of genres, which provides the perfect backdrop for their thought provoking lyrics. With a combined 21 years of musical experience in both songwriting and instrumentation, The Vig Arcadia has no shortage of individual chops. Each member contributes to a larger sound that resonates in meaning and shared human experience.
Their latest single, "Walk Away" represents the breaking point where many have become tired of the lies and manipulation in relationships and are ready to take back control of their destiny. The song will also feature a video to be released March 26, 2022. The single was recorded at Detroit renowned Pearl Sound Studios. Available on Spotify, iTunes, Apple Music, and other online music vendors, "Walk Away" is just the first step in The Vig Arcadia's upcoming plans. The Vig Arcadia will frequently perform in the Metro Detroit area and build on the momentum of their new music and their fans.
For more information on The Vig Arcadia, their new single "Walk Away", and their upcoming schedule, check out their official website.