L.A. and St. Louis based Tomorrow Never Knows is an exciting new rock band with songs inspired by the psychedelic music of The Beatles and reminiscent of the atmospheric sounds of Pink Floyd. In a creative masterstroke, the signature accent for the music on this debut EP titled "No. 1" is the sitar, the unmistakable sound of which brings the music to new dimensions for listeners. The EP was mastered at Abbey Road Studios in London, England.

Bandmates Sam Wade and Jeremy McDonald are singer-songwriters and producers, and this collaboration has been nearly 30 years in the making. In fact, development on this EP began when Wade and McDonald were teenagers, and they have come together now to finish the project and continue with more music to come.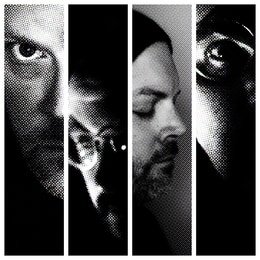 The EP features four atmosphere, space rock songs that are dynamic and catchy, transporting the listener to another place. Wade and McDonald call this unique combination of influences and ideas "Cosmic Alternative" music. "The Drifter" is an ambient ballad about exploring the universe. "Six Sixty Six" is a wild reimagination of the apocalyptic Larry Norman song. "Ascend," the heaviest song in the mix, has more in common with stoner rock, while "Alone on the Moon" taps into the angst of early 70s hard rock.
About the Artists:
SAM WADE is a singer-songwriter and producer, and a previous frontman of several bands, including Saturn V Rockets (available on all music platforms) and Controlled Fires. He also toured with Dallas-based band Oil Boom.
JEREMY MCDONALD is a singer-songwriter and producer, and previous frontman for the band The Stash in St. Louis. He is a long-standing podcast producer and studied the sitar under virtuoso Imrat Khan. McDonald was diagnosed with early onset Parkinson's and is an advocate for awareness about the disease.
In making this "No. 1" EP, McDonald reflects by sharing that he and Wade took "a mystical journey from the mountains of India to the far reaches of space." Wade agrees, adding that the music "took on a life of its own with an expression of something new and different."
The band can be found at TNKsongs.com and on Facebook, Instagram, and YouTube. The EP "No. 1" can be found on all major music streaming platforms.
For all press inquiries, please contact Sam Wade at 323-347-4167 or TomorrowNeverKnowsBand@gmail.com.