SUMMARY: The second solo EP release from rap group gone solo artist Vernon Little features some of the most notable elements of hip-hop music, both old and new. The unique blending of rap structured vocals backed by gospel style vocals, "Words To Live By" speaks to a wide audience, and provides a positive and authentic look at the world.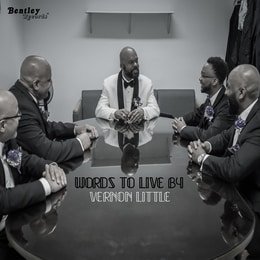 Vernon Little is one example of how working one's way up through the music industry is done. A member as a rap group in the 80's called Deaf Duo, Little is familiar with the rap genre of both today and yesterday. It was ten years ago that Little released his debut EP titled "A New Beginning", kicking off his solo career. Combining elements of 80's and 90's hip hop, it provided audiences with a bridge between two generations of rap while highlighting messages of unity and equality.
On March 25, 2020, Little released his latest EP titled "Words To Live By", which shows an incredible range of gospel melodies and maintains the positive vibe of his earlier work. Perfectly capturing the rich history and the modern style of the Brooklyn rap atmosphere, Little gives listeners a glimpse into the industry as a whole and provides a unique perspective as someone who has worked their way up through the system.
Having been raised religious, his lyrics are heavily inspired by gospel music, which gives his music a powerful choral sound only accented by thoughtful and intelligent lyrics. Recorded both in a home and professional studio, "Words To Live By" has a beautifully crafted sound while retaining the raw style that 80's and 90's rap has always maintained. Looking forward to performing again, he has shown his loyal fan base the ability to adopt old school sounds to fit the modern music landscape. "Words To Live By" is a finely tuned, highly evolved glimpse into what it means to be completely immersed in one's craft.
Hoping to extend his talents beyond the music industry, Little is also considering opportunities in the television and film industry. A true return to old school style rap, the uniqueness of Little's talent is something that is sure to find its way to the masses. To learn more about the poetic gospel of Vernon Little, listeners can check out "Words To Live By" on Bentley Records , or check out his music, both old and new on his YouTube channel (https://www.youtube.com/channel/UChlKVN66kj8fDYC7tdgelrQ).