International Recording Artist Wil Van Winkle & his band the Sixpins are pleased to announce the physical release of their debut EP on their own label, Pie-Raid Records. The album is titled "The Perpetual Club of Sages, Philosophers, and Other Idle Personages". While the EP has been available on streaming platforms and for download since March 2020, the CD has long been delayed due to issues surrounding COVID-19.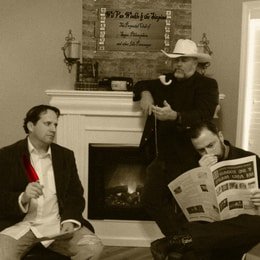 Though the band has been playing songs from the EP, along with Wil's solo material once restrictions were lifted in the Nashville, they did not have the CD to sell at shows. However, despite audience size and venue limitations, Wil Van Winkle & the Sixpins have started getting some reviews of their live shows. While their former drummer, Brian Rotolo, left the band due to lingering health concerns from contracting COVID (not from playing with the band), he has been replaced by Butch Bellah, author of 'Sales Management for Dummies'.
Already working on their next EP, expected in May, entitled "The Diedrich Knickerbocker Diaries, volume 1", the band is currently booked through May in Tennessee and Kentucky and are projecting added dates in Georgia, Alabama, and Indiana. Wil Van Winkle has lived and recorded in The USA, Former USSR, and Germany and has toured Central Asia, parts of Europe, and much of the US.
Wil Van Winkle & the Sixpins are: Allen Atkinson – Bass, Jon Baughman – Guitar, Butch Bellah – Drums, Wil Van Winkle – Vocals, Guitars, Mandolin
"Wil Van Winkle & the Sixpins are an exceptional band that leans on prolific and illustrative songwriting." — Macie Bennet, Music Connection 01/2021
"Wil Van Winkle writes songs that are meant to be played on repeat" – Lauren G, Listen Here Reviews 11/2017
To listen to music from Wil Van Winkle & the Sixpins on Spotify at: https://open.spotify.com/artist/4UvFUMO03WCn2bedCYlKPY?si=A_cbUJhzQdCEzcgNKTRXvQ For more information and visit the band's official Facebook page at http://www.facebook.com/wilvanwinkleandthesixpins
For promotional inquiries contact Wil wil@vanwinkle.band.
For booking inquiries contact Butch booking@vanwinkle.band or call 615-348-8238