SUMMARY: Rather than using guitar to fuel their unique brand of rock, Winchester 7 & the Runners instead feature a distorted ukulele. This creates a rich and vibrant sound that draws upon alternative, classic rock, post punk, and Brit pop to produce a polished, yet analog sound. Their latest album "Argos Holiday", on sale December 17, is the latest addition to their small yet musically evolved catalog that features catchy hooks, complex rhythms and thoughtful songwriting.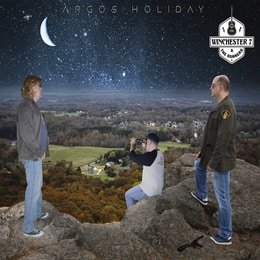 Listening to the fuzzy upbeat sound of "indie" rock band Winchester 7 & the Runners, working through pain, is what led to its formation. After a couple of difficult midlife crisis years for front-man Winchester 7, he was questioning his education in film, photography and audio production as well as dealing with the loss of his mother. He decided to seek something bigger. He met with his brother who had the idea of forming a band. And while the idea made sense given the fact that he was part of a few outfits in his younger days, finding local talent and spearheading the operation did not exactly sound enticing.
Despite the prospect of rounding up a band being less than ideal, Winchester 7 figured that with his knowledge of video and sound production, that he could offer the world of music something unique. He drew a great deal of inspiration from The Beatles, specifically Paul McCartney, who as a multi-instrumentalist has performed as a one-man band for his McCartney I, II, and III releases. Winchester 7 decided to form his own one-man multimedia project, helped along by live mixers and sound mastering engineers. The third EP from Winchester 7 & the Runners, which consists of Winchester 7 and his alter egos, bassist Phil Voorhees and drummer Jack Kane, titled "Argos Holiday" provides listeners with a complex and rewarding listening experience. Not afraid to explore new sounds, the group primarily sticks with beloved indie rock styles and effects.
Recorded in a home studio and aided by lo-fi videos reminiscent of early MTV, "Argos Holiday" features ukulele as the lead instrument, spiced up by distortion and digital effects. The creation of a sound that resembles both old and new is the result. In addition to the compelling original work found on "Argos Holiday", Winchester 7 & the Runners is providing listeners with a variety of extras on their YouTube page. Music fans can enjoy covers of David Bowie's Modern Love and a mix of their original song "The Saint Simon Killer" by Stuart Epps (George Harrison, Oasis, Elton John).
Expect a lot more from Winchester 7 & the runners, as they look to share their ukulele driven, intelligent brand of "indie rock". Coupled with stunning, artistic and often whimsical accompanying music videos, they prepare for the launch of "Argos Holiday" on December 17, 2020. For more information on Winchester 7 & the Runners and to witness their contribution to the evolution of guitar (ukulele) driven indie rock, check out their Facebook page or visit their website at http://www.winchester7andtherunners.com.
Watch on YouTube: https://www.youtube.com/watch?v=7vFi39i4D1g