Recording artist, poet, multi-instrumentalist, and songwriter Shiny Glide describes music as his shield and his salvation. While providing to others what he believes to be the universal language of the world, he strives to to uplift them and bring joy into their lives through music. Originally from Italy, Shiny Glide uses his deep connection to the world and his unwavering commitment to honesty to create music that truly resonates with his listeners. His latest album titled "I'm Still A Seagull" represents Shiny Glide's most adult sounding album yet and is the perfect illustration of an artist who records with both truth and passion.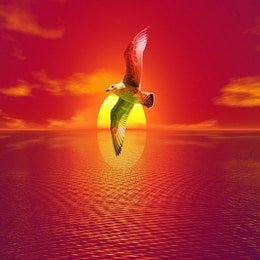 Having traveled the world, Shiny Glide uses his influences to create his unique brand of psychedelic rock with hints of blues, folk, rock from a variety of different eras. Driven by bluesy and pop conventions, Shiny Glide uses layered and looped instrumentals to create a wall of sound accompanied by insightful lyrics designed to evoke deep emotions and instill a sense of calm within the listener. The nomadic approach to music is what keeps listeners moving from track to track, uncertain where the next note will take them, but in the end creating a cohesive listening experience.
Directly on the heels of his last album "Sweet Eternal Walk", his latest album "I'm Still A Seagull" is a brilliant extension of his work as an artist and better than ever showcases each of his separate talents and interests and combines them into a cohesive wave that is impossible to ignore. The album makes great use of sound layers and electronic effects to create an ambient backdrop for insightful and intelligent lyrics that beckon one to think deeper and differently. Covering a wide variety of topics and human emotions, new listeners will be hard pressed to find a song that didn't immediately connect to a similar experience. Old listeners familiar with Shiny Glide's music may be inspired with a deeper understanding of why he does what he does.
Recorded in a home studio, each track on the new album is engineered in such a way that shows how important it is to Shiny Glide to make sure that his messages are being heard by the listener. It seems that the music never stays in one place for too long. Both intimate beauty and universal appeal are present on the latest album with each track offering a different vibe, and taking the album in many different directions.
Reflecting the feelings and hardships that we all experience, Shiny Glide once again has shown the music industry that there is still plenty of experimentation to be had in popular music. "I'm Still A Seagull" will be a breath of fresh air for fans of psychedelic and pop music, old and new. Anyone interested in knowing what modern poetic blues driven psychedelia should sound like, should check out "I'm Still A Seagull" on Spotify and check out his excellent back catalog on YouTube at https://www.youtube.com/user/KingoftheAirMusic.